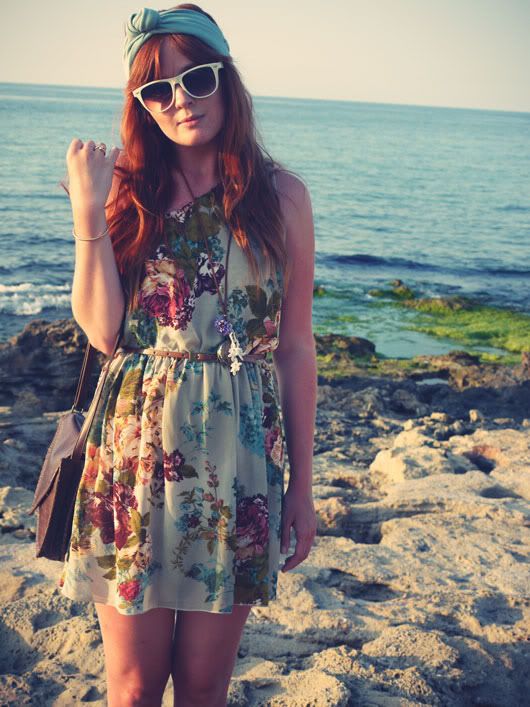 DW

__

What's your name? How old are you and where do you live?
My name is Vicki, Im a 20 something blogger..(kinda shy about my age hope its ok to say this) and I live a sleepy little village called Hillsborough in Northern Ireland...
DW
__
Where would you love to live?
Id love to travel and live in lots of different places! Id love to one day live in either New York or Amsterdam or maybe the south of France on a vineyard.. spending my days drinking wine! lol
DW
__
When did you started blogging?
I started 2 years ago.
DW
__
How did you come up with the idea?
I dunno, i sort of just started it on a whim! I didnt read lots of blogs and I didnt really know much about blogging but I craved a creative outlet after finishing my fashion degree and a way of inspiring myself so I started the magpie girl!
DW
__
What is fashion for you?
Fashion is...an addiction! I love how it can make you feel super confident to throw on your favourite boots and a crisp blazer.. its a great way of expressing yourself and your mood! I always have fun with my clothes and the way I style myself.
DW
__
According to you, what is the most significant period for women's fashion?
Oh gosh..thats a tough one! I actually really love the trends of the 80's. Women were able to express themselves as boldy as they wanted and everything was influenced by the music of the decade.
DW
__
What do you think about the influence of fashion bloggers in the fashion world?
I think its great! About time that us average gals have a bit of a say on whats fashionable.. celebrities always look great but they have stylists, make up artists, nothing is re-worn or re styled. It lacks creativity.
DW

__

Do you believe that one day they'll replace the fashion magazine or do you think it's just ephemeral?
No I think people will also love print magazines, but i think now everyone wants fast fashion, they want news, trends, info everyday and monthly magazines are going to find it hard to keep up. I think more and more weekly fashion magazines will become popular and hopefully one day you will see bloggers gracing the covers instead of celebs!
DW

__

Your favourite item in your wardrobe?
Probably an acid lemon and lime dress that a designer brand sent me through my job as a fashion agent. Its just so individual and the fabric is so beautiful, Ive only worn it once for a wedding but I felt like a million dollars and will never part with it!
DW

__

Is your style personal or is it inspired by what is already out there?
My personal style is influenced by trends, other fashion bloggers, European Street style and what I know suits my shape and colourings.
DW
__
Where do you get your ideas from?
Everywhere, the high street, other bloggers, interior design and prints.
DW
__
What is your greatest inspiration?
Gosh.. I dont think i could pin point one thing as my main inspiration but if I had to id say the story of Alice in Wonderland has a great butterfly effect on my style and what I like. Eclectic, different, and child like.
DW
__
How important is it for you to look your best and why?
It affects my confidence, my creativity and my mood. When I look my best I feel my best. Negativity or mishaps just brush right off me when I look good :)
DW
__
Who would qualify to be an icon?
I love ashley olsen's style, its feminine but slightly messy not quite perfect.
DW
__
Your ideal female or male would have what style? what would he/she be wearing?
He would be wearing a quirky printed shirt, v neck cardy, fitted blazer, knitted scarf, slim line jeans, converse and a smile.. basically just my boyfriend Dave on a normal day!
DW
__
If we say "Chanel" what do you tell us?
Pure iconic class and elegance. I saw a collection of dresses by Coco Chanel in a museum in New York.. It was so inspiring.
DW
__
What is your favourite colour?
Probably a tobacco orange shade... same as my hair.
DW
__
Websites? blogs? other links?
"You have a better life if you wear impressive clothes." Vivienne Westwood.